REFER YOUR FRIENDS ...
---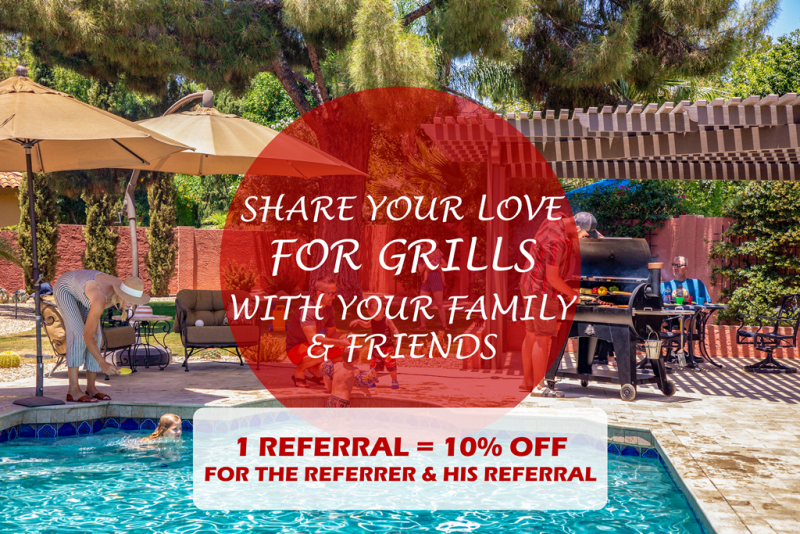 How does our referral scheme work?
Would you like to introduce your family or friends to our Gourmet-Barbecue.com online store? Then why not use our referral scheme, where everyone's a winner?!
If you help your friends discover our web site, they'll get 10% off their first grill order (excludingmodel D-77210), or any purchase for a minimum of €500 (excluding transport costs). In exchange, you'll automatically receive a 10% discount off your next order with no minimum purchase.
Please note that referral coupons cannot be combined with other offers and discounts.

---
How can you benefit from the scheme ?
If you're the referrer :
Once your customer account has been created on our site, click either on the "Referral" menu or on the button at the bottom of this page.
Enter the full names and email addresses of your referrals/friends.
Send the referral offer.
You will receive an email when your referral has made their order and will then benefit from your 10% discount with no minimum purchase.


If you're the referral :
When you receive the email about the referral scheme, click on the link to take advantage of your discount when placing your first order on our site. Your 10% discount will be automatically deducted for any order including a grill (except formodel D-77210) or for any other order with a minimum purchase of €500 (excluding transport costs).
---
How can the referrer benefit from their reduction?
The reduction is automatically applied when the referrer places an order.
The discounts obtained by the referrer through their new referrals are cumulative. The referrer accumulates reductions according to how many of their referrals place an order (with a limit of 30% maximum off, i.e. the equivalent of three orders from friends or family).
Example: the referrer receives 10% off per referral. If the client refers two people and they order on our site, the referrer will receive a 20% (10% x 2) reduction on their invoice.
A promotional code will be generated automatically when ordering. If the referrer doesn't want to benefit from it immediately, they can delete the code and wait for their next order to take advantage of it.
The referrer can look at their referral history whenever they want on the Referral menu and follow up their referrals.